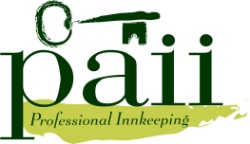 Last week I had the privilege of attending the Professional Association of Innkeepers International Conference and Trade Show 2016 in Austin, Texas. I spoke about all things hospitality, innkeeping, beds, and breakfast. I met a lot of great professionals and got to eat authentic brisket.
If you missed it, you missed a lot of good info. Fear not. There's always next year.
Big shout out to Julie Rolsen, innkeeper of the beautiful Garth Mansion in Hannibal, Missouri. She was my handler and liaison to the innkeeping community. She is super nice, super on it, and super does not care for burned muffins.
It's no surprise that there are lots and lots of legal issues that innkeepers face on a day to day basis. From damage deposits, group bookings, and liability insurance, running a successful business can get confusing. Good thing I was there to straighten everyone out. Can't wait for next year!!!