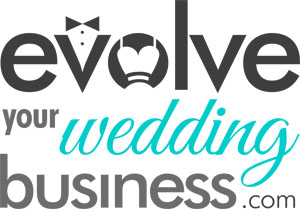 Sometimes during a trial, there are facts and conclusions to which a "lay person" cannot testify. For example, "The plaintiff's fracture was a direct result of the collision," or "General Mills is committing a huge blunder by failing to sell Boo Berry Cereal year-round." In those instances, an expert witness is called to take difficult concepts and break them down into easily understandable bite-size nuggets. This week for Wedding Industry Law, we are dealing with the incomprehensible issue of sales, and I have sought out our own expert, Heidi Thompson. Heidi is the founder of Evolve Your Wedding Business and is a veteran of wedding business marketing. Heidi is in the midst of launching her Book More Weddings Academy at the moment so to find out more about how you can book more weddings without all the struggle, go to www.bookmoreweddingsacademy.com/join. Let's see what's up:
This is Why You Are Not Booking Enough Weddings
There is a process that we all know and understand when it comes to meeting someone, getting to know them, dating them and then getting more serious with them and it doesn't happen overnight. Sales is exactly the same way. That is why you need a game plan for taking these potential clients from total strangers to in love with you and that plan is called a sales cycle. Step by step they move through the sales cycle getting to know and love you more and more and getting closer to being ready to work with you.
The real beauty of having a sales cycle like this is that you can systematize it, so it's simpler to make sales. There are a lot of parts that you can actually put on autopilot! That means that even during your super busy season, there can be people moving through your sales cycle without you having to do a thing. When you have a sales cycle that turns potential clients into paying clients, you can focus on bringing in leads and doing the work that you started this business to do. You can even refine it over time so that you're only focusing on marketing where you generate the most leads. This will make your marketing and your life a whole lot simpler.
Imagine having the confidence that comes with being in control of your marketing and sales process. No more frantically throwing things at the wall to see what sticks. Instead, you'll be spending time on what works and nothing else. I want you to know that there is a better way to get yourself out there than the frantic, stressed out, scattered way that you're probably using right now. You can book more ideal clients, make more money and be a much happier person because you won't be worrying about how you're going to make ends meet. I know because I've seen my clients do it and you can do it too.
Let me ask you this: What path are visitors expected to take when they land on your site? Most people haven't thought about this but it can be the difference between someone getting in contact with you or just leaving your site. Most wedding professionals give the following options to their visitors:
About
Services
Photos
Blog (maybe)
Contact
When someone visits your website while they are researching their options, they will most likely view these pages and then leave because they aren't ready to contact you to have a sales conversation. Just to give you an idea of how much people really do research, here is a statistic from Splendid Insights:
"Even affluent millennials comparison shop. Research is a way of life for this generation, it's not a trust issue. They research everything and read an average of 13.9 reviews before making a purchase. Getting published on blogs helps give millennials more places to look when researching. This counts towards that 13.9."
I challenge you to get to know your customer and think about why they are visiting your site. If they want advice, be the person to give them that advice! They will remember this when it comes time to make a purchase.
Examine your own site and figure out what you are asking people to do. Are you trying to marry them before you even take them on a first date? The "know, like, trust" principle is key in marketing. People don't do business with people until they feel like they can know, like & trust them. What can you offer them to help them get to know, like and trust you BEFORE you ask them to call to book you?